7PXR Transmitter
Super Response Digital Proportional RC System
Exude presence of the "R"
Futaba's flagship 7PX has been the choice of many of the World's top drivers for its incredible response, speed & reliability.
The 7PX has evolved, meeting the demanding and ever-changing needs of today's drivers, introducing the 7PXR
The evolution of "R" means a newly tuned device that will integrate seamlessly with driver and transmitter to bring an experience far beyond expectations.
The 4.3-inch full-color touch screen, telemetry system, new shape throttle trigger along with advanced functions that are unmatched by our competitors are what you the driver expects, the NEW 7PXR delivers.
Core Features:
Super Response
Amazing reaction speed is realized by the combination of the corresponding receiver and servo.
Wireless Settings
Corresponding servo and motor controller parameters can be changed wirelessly while mounted on the body
Optimal Feeling
Improve balance by reducing head weight and improve operability by increasing home button size
Reinforced Housing
Adopt carbon-reinforced resin for housing material
Curved Throttle Trigger
The trigger lever adopts a new design that gives a more natural operation feeling based on ergonomics.
Luxurious Design
The hooks are black anodized with diamond cutting, and titanium screws are used in various places.
Full Features:
FULL COLOR TOUCH SCREEN LCD:
T7PXR has an HVGA 4.3 inch, full-color, backlit LCD touch screen. The screen is transflective which enables both indoor and outdoor visibility.
T-FHSS SR (SUPER RESPONSE) AND TELEMETRY T-FHSS:
In addition to the T-FHSS telemetry system, we added a T-FHSS SR (Super Response) system that increased processing speed to further improve response. (SR system does not support telemetry function.)
UPDATEABLE SOFTWARE:
Software can be updated by microSD card. Model data can also be saved in a microSD card. In addition, telemetry log data can be saved.
MODEL MEMORY FOR 40 MODELS:
Model names can use up to 15 letters, numbers, and symbols, so that logical names may be used. A model memory with different setups can be created by using the model copy function.
NFC COMMUNICATION:
It is possible to update the T7PXR itself in the future by NFC communication.
INTEGRAL TYPE DIAL SWITCH:
A switch with both dial (DL1) and pus switch (PS6) functions.
BRAKE MIXING FOR LARGE CARS:
Brake mixing of the front and rear wheel of 1/5 gas power cars and other large cars can be adjusted independently.
STEERING MIXING:
Smooth cornering is possible by independent left and right steering servo setting.
4WS MIXING FOR CRAWLERS AND OTHER 4WS TYPE:
This function can be used with crawlers and other 4WS type vehicles.
DUAL ESCS MIXING FOR CRAWLERS CARS:
ESCs at the front and rear are controlled independently.
GYRO MIXING:
The sensitivity of Futaba car rate gyros can be adjusted from the T7PXR.
TANK MIXING:
This function is intended for vehicles such as tanks.
CPS-1 MIXING:
LED lighting and flashing control using our CPS-1 channel power switch can be matched to steering and throttle operation by switch only.
S.BUS SERVO:
This is a special function that allows setting of the parameters of our S.Bus servo whose settings are changed by using PC Link software.
MC-LINK:
This dedicated function allows you set up the Link software so that your T7PXR can control variable frequency and other data changes in Futaba speed controllers (ESCs): MC960CR, MC950CR, MC850C, MC851C, MC602C, MC402CR, etc.
THROTTLE SPEED:
Sudden trigger operation on a slippery road surface will only cause the tires to spin and the model to not accelerate smoothly. By setting the throttle speed function, operation can be performed smoothly and easily. It also suppresses battery consumption.
STEERING SPEED :
When you sense that the steering servo is too fast, etc., the servo operating speed (direction that suppresses the maximum speed) can be adjusted.
NON-TELEMETRY LED:
When the telemetry function is OFF to confirm that the telemetry function is not operating.
DIAL SELECT FUNCTION:
This function assigns functions to dials (digital trim, drip dial, knob). The step amount and operating direction can also be adjusted. Trim positioning at each model call is unnecessary because all the dials are digital.
SWITCH SELECT FUNCTION:
This function assigns functions to 5 switches. The operating directions can also be set.
WHEEL AND TRIGGER POSITION CAN BE CHANGED:
The wheel position can be offset by using an accessory APA wheel position offset adapter. The wheel angle can also be adjusted. The position of the throttle trigger can be moved forward and backward.
TRIGGER BRAKE LEVER REPLACEMENT:
The trigger brake lever is selected from a narrow nylon type and wide type.
TRIM/DIAL LOCK FUNCTIONS:
Lock functions which prohibit setting and operating by transmitter trim, and dials are provided.
LEFT-HANDED SUPPORT:
The left and right installation direction of the wheel section can be reversed.
VIBRATOR BUILT INTO THE GRIP:
The vibrator can be operated at racing timer lap navigation, time-up, and low battery, telemetry alarm. It sets it on each function screen.
Contents:
T7PXR Transmitter
2 x R334SBS Receiver
Dry Battery Holder
Wheel Offset Adapter
Wheel Adapter 32deg
Large Diameter Steering Wheel (54 mm)
Trigger Brake Lever (Narrow Type)
Miniature Screwdriver
Screen Protector
3 x Receiver Plugs
(FUT7PXRR334SBS)
| | |
| --- | --- |
| SKU | FUT7PXRR334SBS |
| Brand | FUTABA |
| Shipping Weight | 1.5000kg |
Be The First To Review This Product!
Help other Chequered Flag Racing users shop smarter by writing reviews for products you have purchased.
Others Also Bought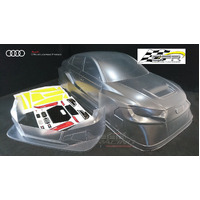 AUDI RS3 LMS TCR WB535mm Touring Car Body
$250.00
or 4 payments of $62.50 with

Info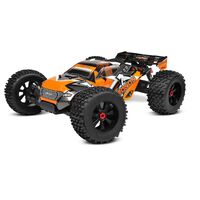 Team Corally - 2021 KRONOS XTR 6S 1/8 Monster Truc
$625.00
or 4 payments of $156.25 with

Info
More From This Category